1. Is ICBC The Only Insurance Company in BC?
ICBC is a crown corporation and has been in effect since 1973 in British Columbia. It serves as the primary insurer for all BC drivers. It's not the only insurance company in BC, but it's the only one that all drivers must get their basic auto insurance from.
If you're new to beautiful Vancouver, or beautiful British Columbia, you may be confused as to how ICBC works. Even for people that live here, ICBC can be confusing. So how does ICBC work? We will go through some common FAQ's about this 'crown corporation' known as the Insurance Corporation of British Columbia. Also check out: British Columbia Driver License & Vehicle Guide.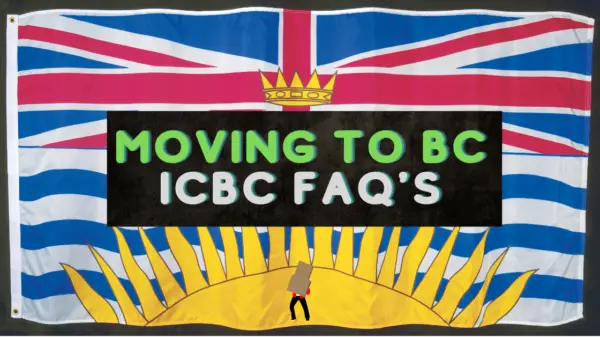 2. Is ICBC Insurance Mandatory?
Basic car insurance, known as ICBC 'Basic Autoplan' is mandatory for all drivers in BC.
All drivers must obtain their liability insurance from ICBC. And while ICBC offers optional insurance (collision, comprehensive), it's possible to get your optional insurance from somewhere else if you like.
3. How Does ICBC Work – What Services Does ICBC Have?
ICBC is responsible for:
4. How Long Can You Drive in BC With Out of Province Plates?
You have to register, license, and insure your vehicle after 30 days of arriving in BC. The only exception is commercial vehicles, which need to be registered immediately upon arrival.
5. How Long Can You Drive in BC With an Out of Province Driver's License?

How does ICBC work if you're – Just visiting
If you are visiting beautiful British Columbia, you can drive for up to 6 months if you hold a valid foreign or another license from another Canadian province. Any restrictions that you have on your current license will apply in BC.
How does ICBC work if you're – a student
If you are student from another province or from a foreign country, you can drive with a valid license for longer than 6 months. There are a few conditions.
You must be a registered, full-time student at one of the recognized institutions
You have to carry your student ID to show you're a student
Check out The Canadian Information Center for International Credentials to see if your school is recognized.
How does ICBC work if you're – a new resident
If you have a driver's license from somewhere other than beautiful British Columbia, you can use it for 90 days. After that, your license won't be valid anymore in BC.
It's recommended to apply for a BC driver's license as soon as you get to BC. Make sure to bring your current drivers license with you whenever you're driving. If you do get pulled over and you're without your license, the police will give you a Notice of Driving Prohibition.
If you show police a valid license, they'll allow you to continue to drive with it, unless they have some kind of evidence that you should hold a BC license.
6. How Do I Transfer My Drivers License to BC?
Moving from within Canada
After you move to beautiful British Columbia, you need to switch over your driver's license within 90 days. In the meantime, you can still drive with an existing, valid license.
Here are the steps to switch over your drivers license from another Canadian province to BC
Book an appointment to apply for your license at an ICBC location
Bring your current driver's license
You'll need a form of payment for your new license
Bring your proof of driving experience
The years you've already driven will help to determine your ICBC insurance premiums.
New residents to BC only need to provide their driver's license history. Proof of insurance is no longer needed.
You need to prove how long you've had a full driver's license. This proof can be:
Your current driver's license (as long as the issue date shown is the date of your first drivers license)
An international driving permit (must not be expired more than 5 years) and its corresponding driver's license (If your current license is not in English, this permit is required)
An original driver's license history document (Ontario, for example) or driver's abstract
A letter of experience from the licensing authority that issued your first license (not your learner's license).
If your document isn't in English, you'll have to get it translated from an ICBC approved translator.
To get your class 5 driver's license, you need to have held a driver's license (learner's don't count) for at least 2 years. If you haven't, or if you can't prove it, then you'll enter the GLP (Graduated Licensing Program) and drive with the 7N license and it's restrictions.
ICBC will give you credit for up to 15 years of driving experience, with the receipt of proof that shows the original date you got your license.
Moving from outside Canada – How does ICBC work?
After moving to beautiful BC from somewhere outside of Canada, you have 90 days to switch your drivers license to a BC one.
New residents to BC must provide your driver license history
Proof of insurance is not required
ICBC will credit you with up to 15 years of driving experience
Driving experience requirement
You need a minimum of 2 years driving experience to be exempt from the Graduated Licensing Program in BC. If you don't have this with a full-privilege, non-learner license, (or can't prove it) you can still get a Class 7 or Class 8 license with graduated licensing restrictions.
How does ICBC work for giving up your previous driver's license?
In BC, it's law that you can only have one driver's license. When you get a BC driver's license, you'll need to hand over your other one to ICBC.
If you fail a required road test, you will be given a BC Learners license. You won't be able to get your previous license back.
​​How does ICBC work for reciprocal license exchange – Directly exchange your license
British Columbia has reciprocal license exchange agreements with many places. Your particular driver licensing requirements depend on where your license is currently from.
What this means is that you can easily 'trade in' your current license for a BC license class 5 or 6 (passenger vehicles or motorcycles).
Just make an appointment for a BC license, bring your current license and fees, and show your proof of driving experience.
How does ICBC work for non-reciprocal license exchange?
If your country isn't on the list of reciprocal jurisdictions, you can still get your BC license, but you'll need to take a knowledge test and a class 5 road test.
You're allowed 90 days to complete this process. Get started right away because there can be long waits to get a road test appointment. If you keep checking the online booking system, it's possible you can grab a spot when someone cancels.
7. How Do I Get My L in BC?
To get your L in British Columbia, you have to get 40 out of 50 questions right on a multiple-choice knowledge test. This test is done on a computer at an ICBC driver licensing office, and you need to make an appointment. Here are some steps to follow:
Take the practice test online & road signs practice test
Book an appointment to get your L
Bring ID
If you're under 19, bring a parent or a parental consent form
Fee for the knowledge test is $15
Pass the vision screening part of the test
8. How Does ICBC Work – Do You Have to Have a Front License Plate in BC?
Yes you do need both a front and back license plate in beautiful British Columbia. If you don't, it's illegal. The other Canadian provinces that you need both front and rear plates are Ontario, Manitoba and Newfoundland.
9. Is It Illegal to Eat and Drive in BC?
In accordance with the Motor Vehicle Act, police can ticket you for an variety of behaviors that basically translate into driver inattention. This can include eating while driving. Police may use their discretion.
10. Can Passengers Drink Alcohol in a Car in British Columbia?
No, it's illegal to consume alcohol in a vehicle in beautiful British Columbia.
11. Does Your N Expire In BC?
The N will expire 5 years after the original issue date. If you need to renew your N license after that, simply make an appointment with ICBC and renew your license, just like any other driver.
It's interesting that the N can be renewed, and drivers aren't required to complete the graduated licensing program, although I'm sure that most do.
In other words, a person could keep their 'N' 'forever' by simply renewing it every 5 years. I'm not sure why people do this because with the N comes greater restrictions and greater penalties, no matter how long you've been driving with it.
12. What Happens if You Drive Without Insurance in BC?
Driving without insurance in beautiful British Columbia is a provincial offense. The fine for driving without insurance is $598. You could be personally liable for all of the damages that arise if you had a crash.
13. What Does a Red License Plate Mean in BC?
Red license plates in beautiful British Columbia have to do with the consulate (diplomats, embassy). 71 Countries are represented in BC by the Corps. Consular Officers (which includes Consuls General, Consuls, Vice-Consuls and Consular Agents), represent and promote their country's interests. Some examples are assisting nationals, promoting trade, & issuing passports and visas within BC.
14. Are Front License Plates Required in Canada?
Front license plates are required in the Canadian provinces of Ontario, British Columbia and Manitoba. The front plate is not required in the other provinces.
15. Can My Friend Drive My Car in BC?
Yes, your friend or someone else can drive your car in BC, but you'll need to update your insurance to include any additional drivers on your policy. ICBC insurance will cover someone else driving your car.
There is also some coverage available for unlisted drivers. This may come with a penalty. ICBC has recently changed their insurance model so that the consequences of incidents stay with the driver, rather than the vehicle.