What is the Graduated Licensing Program GLP?
ICBC's Graduated Licensing Program (GLP) was introduced in British Columbia in 1998. It's a phased approach to learning. It allows learner drivers to adjust to driving in a safe, more gradual way, so they're better prepared for driving in the real world, and takes about three years from start to finish, including two road tests and one knowledge test.
This program is for learners to work towards getting their full driver's license. It is a required program for any new/learner driver; it's not optional. Drivers who take an approved driver education GLP course with a driving school can receive benefits, such as high school credits and time off (shortening of the time in the GLP).
The aim is for learners to ease into learning how to drive in the least risky way possible. And to hopefully learn all the skills and attitudes to become a safe, confident, and crash-free driver.
Learner drivers (Class 7L) must first drive with a qualified supervisor for at least one year, then after success with the first road test, may drive alone with restrictions with their Class 7N ("new driver").
To get through GLP:
There will be one multiple-choice test knowledge test to get the Class 7L Learner's license
After successful completion of the first road test, drivers receive their Class 7N "new driver" license, which is valid for 5 years, but drivers may take their next and final road test after driving with their "N" for 2 years, or 18 months if they have taken an approved ICBC GLP driver education course with an ICBC approved driving school
After the second successful road test, drivers receive their full Class 5 License and complete the GLP program
It will take about three years from start to end as long as drivers drive safely and don't get into trouble during their GLP phase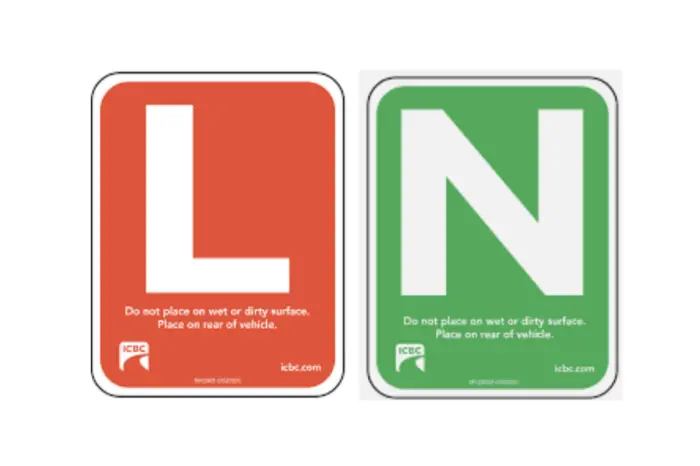 Table of Contents
Step 1: Get your learner's license – your Class 7L
How to get your Class 7L:
You can get your L on or after your 16th birthday
Get your parent (or legal guardian) to sign consent if you're under the age of 19
Take the ICBC practice knowledge test​ (You need to get 40 out of 50 questions right on the multiple-choice test). This must be done at an ICBC driver service center location
Book your knowledge test appointment and take the test at an ICBC driver licensing office
If you get stuck on a question you can use the 'skip' button to skip that question; you might not have to see it again
The test is available in English, Arabic, Cantonese (with traditional Chinese writing), Croatian, French, Farsi, Mandarin (with traditional Chinese writing), Punjabi, Russian, Spanish, and Vietnamese
If you don't pass your test, you can take it again after 7 days
You'll need to pass the vision screening test, which is a basic eye exam given to you at the ICBC driver's service center
What to bring to the knowledge test
A signed and witnessed parent/legal guardian consent form if you're under 19 (or you can have your parent or legal guardian come with you)
Fees for the knowledge test and your learner's license ($15 for each knowledge test, and $10 for your learner's license)
Once you pass your knowledge test, you'll get a "paper" license which is a temporary license you can drive with until your real one arrives in the mail (usually within 10 business days). You'll also receive your stylish "L" sign to be placed on the back of your vehicle when you drive.
Driving as a Learner (Class 7L)
You'll need to be a learner for at least 12 months before you can take a road test and graduate to the next level.
Your learner's license stays valid for two years. If you need more time, you can renew your learner's license by re-taking and passing the knowledge test. If you renew your learner's license you don't have to wait any extra time to take your road test.
While you're a learner, you'll have to drive with a qualified supervisor and follow the restrictions that are printed on your license. Check out my full article on the ICBC L/N Restrictions & Bottomless FAQs.
These rules are really important. If you don't follow them, or if you break the rules in some kind of way, that could mean that you pay a penalty or extend the time you spend in the graduated licensing program (GLP).
Step 2: Get your novice license – your Class 7N
Penalties are strict in the GLP
If you violate the zero blood alcohol content or zero blood drug concentration restriction, or your other restrictions, you may be subject to fines and other penalties. In some cases, your GLP "time" will reset if you get into trouble; you'll have to start counting from zero to two years again (say you're driving with your "N" when you get into trouble.)
Step 3: Get your full license – Class 5
Once you get your Class 5, you'll finally have no more graduated licensing restrictions, any more tests, or 7L and 7N signs on the back of your vehicle.
You can apply for your full license via the second and final road test after having your 7N for at least 24 months of safe driving with no prohibitions
Or possibly 18 months, if you take an ICBC-approved driver training course in your L stage and were a safe driver during that period
Driver education for 6 months off your time
If you are considering a driving school, make sure it's licensed by ICBC.
GLP-approved training courses
Taking an ICBC-approved (GLP) driver training course in the Class 7L stage could reduce your time in the graduated licensing program (GLP)
You must be a safe driver with no at-fault crashes, driving violations, or prohibitions while in the first 18 months of the Class 7N, stage to receive six months off
Successfully completing a GLP-approved driver training course will also give teens two high school credits
GLP training courses consist of a combination of practical learning in the car with a driving instructor for a certain amount of hours, as well as theory about safe driving practices in the classroom setting. Your instructor will need to sign off saying you have completed the program and your driving is good before you can receive the GLP driver education benefits.
What you'll need to learn & practice
Intersections – driving straight, turning right, turning left
Entering traffic
Pulling over and stopping on the side of the road
Parking & starting on a hill
Angle & parallel parking
Stall parking (driving forward and backing up)
Two- and three-point turns
Merging on and off a highway
General driving (Driving straight, driving on hills and curves)
Speed management
Study Guides & Resources
Related Articles:
Author Profile
Carmen became a driving instructor in beautiful North Vancouver at the age of 22 due to some crazy people who agreed to hire her. After that, there was never a dull moment teaching many different folks from many different places how to drive using automatic and standard vehicles and a minivan.