When you're a new or learner driver it can be sometimes difficult to get access to a vehicle without actually buying one. And, taking the bus or public transportation system isn't always what you need. This article will discuss some different options for basically getting your hands on some car keys for new and learner drivers in beautiful British Columbia. Be sure to check out my epic article: ICBC Road Test Tips For Classes 5 & 7 [Instructor Gets Deep].
Can You Rent a Car With an N in BC?
Yes, you can rent a car with an N in British Columbia. There are not a ton of options, but there are some options for new and learner drivers, depending on where you live and which of the following companies you may have access to.
Everyone knows that being a new driver and trying to get some wheels can be difficult. For example, insurance can cost more. No one wants to let you drive their car or they don't have the right kind of insurance for you. And looking at the new driver car rental and ride-sharing options can seem daunting. This article will discuss:
Car rental & car sharing that "L" and "N" learners and new drivers are allowed to rent/share
Car rental & car sharing options that will allow 'L' drivers to practice driving
Options for "L" drivers to use a car to do the road test with
Car rental options for new and/or young drivers
General options for any driver to rent a car or car-share
Options for if you don't have a credit card
Car rental options in BC for people with G2 Ontario licenses
Can You Use a Rental Car For a Road Test ICBC?
Yes, you can! There are several companies that allow learners and new drivers to rent a car (or car-share) for their road test. These include:
If you plan to use a vehicle from a car sharing co-op or company and are not the named member, you must provide a letter from the company authorizing you to use the vehicle for an ICBC road test; the letter must be written on original letterhead, dated, and signed by a representative of the company. A new letter must be produced for each road test attempt.

ICBC – prepare for your road test
| | | | | | |
| --- | --- | --- | --- | --- | --- |
| | Location | L | N | G2 (Ontario) | Min. Age |
| Rent A Car Vancouver | Downtown Vancouver Robson, Downtown Vancouver Beatty, Richmond AIrport Off-Site No. 3 Road | TBA | Yes, $20 surcharge | Yes | 18 |
| Modo | North Vancouver, UBC, Vancouver, Burnaby, New Westminster, Surrey, Richmond, Coquitlam, Port Moody, Port Coquitlam, Victoria, Esquimalt, Oak Bay, Saanich, Sidney, Nanaimo and Kelowna & Major ferry terminals | Yes | Yes | Yes | 16 With Green Membership / Modo Supervisor |
| Evo | Vancouver, Victoria | No | Yes | Yes, with 2 year driving history | 18 |
| Pacific Car Rentals | Downtown Vancouver 501 W. Georiga St. | Road Test Only | Yes | Yes | 19-25 surcharge |
| Vancity Car Rentals | Downtown Vancouver 1110 Howe St. | Yes | Yes | Yes | 18, underage fee |
Here Are Some New Driver Car Rental & Ride Sharing Options
No particular order, as usual…
Rent a Car to Practice Driving With Modo
MODO is a car-sharing opportunity that starts at $4/hour. They have individual and business plans. They have a diverse set of vehicles, including a wheelchair accessibility minivan.
Modo vehicles are commonly found (among other spots) near ferry terminals in the Lower Mainland and on the Island. They offer allergen-free and pet-friendly options, snow tires, roof racks, & USB and Bluetooth capabilities.
Requirements To Join Modo
You must be 19+ years of age OR, if you're under 19, you can become a Green Member linked to a Member-Owner (Principal Member) who is 25+ years of age and has a valid Class 1, 2, 3, 4 or 5 BC driver's license
Have an N license or better, or the equivalent from another jurisdiction (must be permitted to drive alone in the car), or have the L license and be a Green Member linked to a Member-Owner (Principal Member) that is 25+ years of age and has a valid ICBC-issued Class 1, 2, 3, 4 or 5 driver's license
No at-fault accidents within the past two years at the time of joining
No more than one at-fault accident within the past two years after joining
No license suspensions within the past two years
No more than two traffic violations in the past two years
Drivers with a learner's L license and drivers under 19 years of age with an N license are eligible to join as Green Members and must link their membership to a current Modo Plus Member. Click here for more information.
Documentation Requirements – Modo also needs to see, at a minimum, the last two years of BC driving and insurance claims history and/or driving history from outside BC, no matter where you held your license during those years, and/or whether you've driven, or insured a car, for two years or not.
Green members are drivers who have their (L) (or are 18 with an N) and are earning driving hours towards their full license in the province of British Columbia. Now, young or learner drivers in your life can drive with Modo under the Green Membership plan. Green members are eligible to join under a Principal member's account (sharing-holding member) that's 25 or older.
New Driver Car Rental & Ride Share Option – Zipcar
Zipcar has left beautiful British Columbia and in terms of Canada, is only operating in Ontario in 2021
Applicants must be 21 years or older to be eligible for application/membership; 18-20 years old if affiliated with a college or university
Applicants must have a valid driver's license
In addition to the requirements above, Zipcar reserves the right to decline membership based on driving history or credit issues.
New Driver Car Rental & Ride Share Option – EVO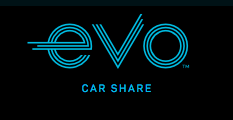 Can You Drive An Evo With an N?
Yes, you can, just make sure to keep following your N restrictions. You do need to be at least 18 with two years of experience including your L time.
100% Hybrid Fleet, With Ski Racks & Bike Racks
Evo is a car-sharing option in British Columbia. You pay only for what you use, and Evo covers the rest. Pretty much everything is included – every trip includes gas, insurance, parking, unlimited km, maintenance, 24/7 support, and BCAA roadside assistance.
Requirements To Join Evo
2 years of driving experience
Minimum N license (class 7) with 2 years of driving experience (including Learners)
No more than two Traffic Violations
No more than 6 driver penalty points (or equivalent demerit points) in the past two years
No charges or convictions of any major traffic violation
Have no prohibitions from driving a motor vehicle under the Motor Vehicle Act (BC) in the past 2 years
New Driver Car Rental & Ride Share Option – Turo
Turo is a rather new car-sharing opportunity that exists across many different cities in the U.S. and Canada. You basically rent your car from a private citizen.
To book a car on Turo in Canada, you have to:
Be 21 years old or older with a valid driver's license
Get approved to drive on Turo
When you're booking your first trip, you'll go through a quick approval process by entering your driver's license and some other information
In most cases, you'll get approved immediately, and you'll be set for future road trips, business trips, and family vacations
Browse a wide selection of Vancouver car rental alternatives for many different occasions, and for many different budgets.
You can find an SUV rental alternative for a road trip, a Vancouver truck rental alternative in order to do some errands, or find an exotic sports car rental alternative for a special night out.
3 Steps To Getting Your Ride With Turo
Find the perfect car
Enter a location, and date, and browse thousands of cars shared by local hosts
Book your trip
Book on the Turo app or online, choose a protection plan, and say hi to your host. You can cancel for free up to 24 hours before your trip.
You can have the car delivered, or pick it up from your host. Check-in with the app, grab the keys, and hit the road.
Turo includes different options for physical damage protection, liability insurance, and 24/7 support and roadside assistance.
New Driver Car Rental Option – Enterprise Rent-a-Car
The minimum age to rent a vehicle is 21 years of age at Enterprise
A 'Youthful Surcharge' (Ouch) may be applied to your rental if you are between the ages of 21 and 24. The average cost is approximately $25.00 per day but can be higher or lower based on the rental location
Must present a valid, unexpired government-issued driver's license which includes a photograph of the customer. Digital licenses are not accepted. The driver's license must be valid for the entire rental period.
New Driver Car Rental & Ride Share Option – Budget
Budget has different age requirements for different locations. It seems like for most of the Canadian locations, age 21-24 with a valid credit card and driver's license is required
New Driver Car Rental Option – Pacific Car Rentals
To rent a vehicle Pacific Car Rentals requires a valid driver's license. If the license does not have a photo they will ask for a secondary photo ID (passport, ID card)
Novice licenses are acceptable
Learners' licenses can only be used as a rental to take a road test. It is required that you follow restrictions on your license to qualify for renting
Renters are required to verify the license they hold is valid for the type of vehicle they are renting and for the purpose they are renting the vehicle for
Pacific requires the renter to be at least 19 years of age, there are more restrictions for drivers ages 19-21
Drivers under the age of 25 are considered to be underage and a fee applies, depending on the vehicle class and rental length
They do accept foreign driver's licenses, but they may request a translation or international permit if the license is not in English
You are required to have the physical license with you at the time of rental
Driving in winter? You can rent a car with snow tires. They have a guaranteed selection of vehicles with the 3 peak mountain symbol. Select a vehicle that states "W/Snow-tires" when reserving online
New Driver Car Rental Option – AVIS
Canada licenses required by issuing province to rent an Avis vehicle are:  Manitoba requires Class 5 Full (F), New Brunswick requires Class 7 (level 2 only) and Class 5, Ontario requires Class G & G2 and all other provinces require Class 5
Customers presenting a driver's license in a non-Roman alphabet must also present an International Driving Permit (IDP) in addition to their valid driver's license.
New Driver Car Rental & Truck Option – U-Haul
Can You Drive a U-Haul With an N?
Yes, you can drive a U-haul with an N. Just be sure to follow all of your restrictions still. Any license that allows you to drive alone is acceptable.
U-Haul requires that renters be at least 16 years old to rent a trailer, and 18 years old to rent trucks. You do not need a special driver's license to rent a U-Haul, since they are not classified as commercial vehicles.
According to U-Haul, learner drivers ("L") are not able to drive. However, new drivers ("N") are able to rent and drive U-Hauls.
Any license which grants ability to drive without supervision will work. Learner's permits are not acceptable.
Be sure to follow all of your N driver restrictions when driving a U-Haul
Can You Drive U-haul with G2?
Yes, you can drive a U-haul with a G2 license. A G2 license is a license from Ontario and is somewhat equivalent to the British Columbia Class 7 new driver's license. According to U-haul, any license that allows you to drive alone, without supervision, is acceptable to rent a U-haul. Some license restrictions may apply.
New Driver Car Rental Option – Hertz
On most retail rentals at corporate locations and participating licensee locations in Canada, the minimum age is 25 years old without an additional Age Differential Charge at Hertz
You can rent some vehicles from 20 years old with an additional Age Differential Charge
New Driver Car Rental Option – Rent A Car Vancouver
Rent A Car Vancouver is a place that welcomes New drivers. They have locations at the Vancouver airport, in Richmond, and in downtown Vancouver
Rent A Car Vancouver offers rental services for young and new drivers, Class 7 N drivers, and under-age drivers
You can rent a car for your road test
If you don't have a major credit card, you can still rent a car by putting down a cash or debit deposit instead
Renters and additional drivers must provide a valid, authentic, government-issued driver's license (class 7/5 or higher) issued from their country of residence
A temporary version of the driver's license or permit is also acceptable, with supporting ID, when the original license has expired or been lost. The renter's driver's license must remain valid for the duration of the rental period
Renters must be 18 years of age or older
If you want to rent a car for a driver under the age of 18, please call 1-888-689-1231 to inquire. 'Under Age Fee' may be applied to your rental if you are between the ages of 18 and 24. Anyone under 21 must buy the collusion and basic liability
Show your student ID card and get a discount
New Driver Car Rental Option – Vancity Car Rentals
Rent A Car For The Road Test

Vancity Car Rentals is located in downtown Vancouver. Young drivers are welcome!
Underage (18+) and Novice drivers are welcome. Security deposits may vary on the license being held and the vehicle rented
No credit card? No worries! They accept cash and debit deposits
Call at anytime 24*7 * 365
They have various deals and discounts going on all the time. Just ask
Rent a car for your road test, contact the local office at 604-324-2898 to make your reservation.
Conclusion
While it's not exactly cheap to rent a car or to use a car-sharing co-op, there are some new driver car rental options if you're a young and/or new driver. And, they're all a lot cheaper when compared to buying your own car. Even less expensive cars that you might buy can end up costing much more, in insurance, repairs, gas, parking, regular maintenance, and other things.
These no-commitment options are there for when you need them. Some of the car-sharing co-ops such as Modo & Evo, welcome new drivers as long as you've met the other requirements (like no recent crashes or other driver's license issues).
Watch out for the "Youthful Surcharge" at Enterprise and some of the others. It's rude to be discriminated against just because of your age. Especially these days when we are not supposed to judge one another.
The fact is that inexperienced drivers (who usually happen to be young) simply crash more than experienced ones. Statistically speaking, people who are 25 and younger crash more than 26 and are more experienced.
But how do you get experience if you aren't able to obtain wheels?
The best thing you can do is to keep driving, try out some of these options if need be, and get that experience.
Or, check out our defensive driving article so you can prevent crashes before they had a chance. Be extra careful if you're inexperienced, and get through the graduated licensing program as quickly as possible so you can reap the benefits of a full license. Until then, just drive safely.
Related Articles: