Does BC Have Private Car Insurance?
ICBC vs private insurance is a thing worth pondering. Yes, BC does have private car insurance, but all drivers are required to get their basic insurance from ICBC, the Insurance Corporation of British Columbia. ICBC is a crown corporation and has been in effect since 1973 in BC. New to Vancouver or BC? Check out our blog on How Does ICBC Work? Top 15 FAQ's.
It serves as the primary insurer for all BC drivers. This is majorly different from countries like the U.S., and other Canadian provinces, where many private insurance companies provide drivers with different options.
And while British Columbians don't have an option – everyone must use ICBC for their basic (liability) insurance – you can use a different company for your optional (collision, comprehensive) insurance. We will take a look at some pros and cons and details of using ICBC vs private insurance.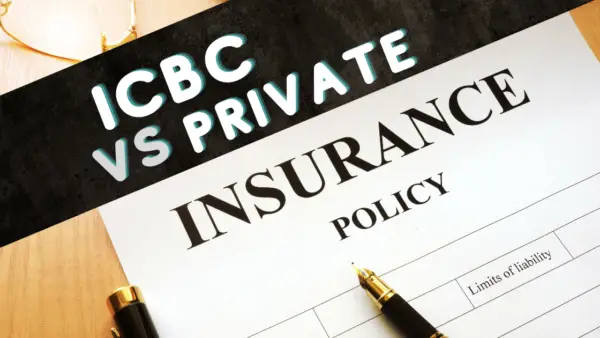 ICBC vs Private Insurance – Mandatory ICBC Basic Insurance
Basic ICBC autoplan insurance covers you when you're driving in Canada and the U.S. ICBC insurance coverage is so common simply because obtaining this basic insurance policy is mandatory. This covers the absolute minimum level of insurance.
Basic ICBC insurance covers the following:
Third-Party Liability (TPL) coverage $200,000 – this protects you when you're at fault for a crash and another person makes a claim, this includes property damage
Underinsured motorist protection. This is for potential medical expenses caused by drivers who are underinsured or have no insurance at all. Up to $1 million per insured person
Enhanced Care Benefits – If you are hurt in a crash, you can get unlimited medical care and recovery benefits for treatments. Examples include physiotherapy, chiropractic, dental care, counseling, and some others. In addition, up to $100,000 in lost wages (doesn't matter who was at fault).
Basic vehicle damage $200,000
Inverse Liability Coverage – This protects your vehicle in certain parts of the U.S. as well as Canada where local laws restrict your coverage options
You can add unlisted driver protection, for if an unlisted driver crashes your car
ICBC Optional Insurance
Of course, you could get your optional insurance from ICBC as well, but know that you don't have to. Here are some of the ICBC product offers you could get for optional insurance in BC.
Collision – covers repair and replacement costs even if you're the one at fault
Hit-and-run protection – covers replacement and repair costs if a hit-and-run driver causes damage
Income top-up for enhanced care benefits
Comprehensive – covers theft and vandalism, fire, earthquake, explosion, falling/flying objects such as a rock hitting your windshield, hitting an animal (wild or domestic), weather like lighting, storms, rising water, hail damage, windshield repairs
Extended third-party liability
Loss of use
Rental vehicle coverage
ICBC vs Private Insurance – Pros and Cons
There are some things to consider when deciding on ICBC vs private insurance. Here are a few things to think about when deciding on your auto insurance needs.
Everyone's insurance needs are different, so your ideal level of coverage might be quite different from the next person's.
Private insurers may offer more flexibility for lower premiums vs higher deductibles
Sometimes the cost of this coverage is less than adding additional ICBC coverage
There are some different options and types of compensation that are available through private insurance, that aren't available with the basic ICBC plan
If you do have a claim, you'll need to deal with 2 insurance companies instead of one, which could potentially turn into a hassle
Private insurance companies often require more paperwork compared to ICBC
ICBC vs Private Insurance – Is Private Insurance Better Than ICBC?
It's hard to answer these questions because it all depends on you, your vehicle, your claim, and your insurance provider. But generally speaking, optional insurance from somewhere other than ICBC is a good deal for many people.
ICBC vs Private Insurance – Is BCAA Cheaper Than ICBC?
It's difficult to answer this question of course, but based on several customer reviews, it does seem that people are reporting BCAA insurance as being more affordable compared to what ICBC offers.
ICBC uses three key factors to help assess risk and calculate insurance costs:
Who drives your car
The driving experience of the people who will be driving the car
Crash history
ICBC vs Private Insurance – Details On BCAA's Optional Car Insurance
BCAA is one place where you could get your optional coverage, in addition to the ICBC basic autoplan insurance.
Collision coverage will pay to fix your vehicle after a crash, even if it was your fault. It also covers vehicle damage from a hit-and-run.
Comprehensive coverage will help protect your vehicle from things other than a crash, such as vehicle repairs after a break-in, weather like a windstorm, and more
Excess third party liability provides coverage in excess of $200,000 for crashes outside of BC and for crashes that injure someone or for damage to someone's vehicle. It also covers you if you damage another person's property. For example, if you hit and damage someone's fence.
BCAA also automatically offers these unique coverage benefits with your private insurance policy:
Tire protection – If a tire on your vehicle is damaged by potholes or punctures, BCAA will cover the cost to repair or replace your tire
One accident forgiveness – You can protect your good driving record and keep your premium from going up after your first at-fault accident
Guaranteed car repairs – When your car is repaired by a BCAA Approved Auto Repair Service (AARS) facility, then it will be guaranteed for as long as you own the car
Lock re-keying – If your keys or key-less remote are stolen, you'll be reimbursed up to $1,500 to re-key or re-code the locks, without a deductible
Pet coverage – If your pet is injured in a car crash, you can get up to $1,000 in coverage for veterinary bills and expenses
Motorcycle coverage – You can get your riding gear replaced, up to a value of $1,500 (you can increase the limit if needed)
24-hour claim service – you can have a personal adjuster assist you throughout your entire claims process
$500 service guarantee – if you need to make claim, you can get help fast. If they don't open your claim within 6 business hours of answering your call, they'll pay you $500
Additional options available:
Rental vehicle package
Additional wage loss coverage
New vehicle replacement coverage
$0 glass deductible
Personal property coverage
BCAA also operates the car-sharing service, Evo. If you need a car for your road test, check this out.
Other Options For Private Auto Insurance In BC
While it may be difficult for a new driver to get private insurance, it's still worth checking into. It may be worth it for many people, and getting a quote is usually pretty easy.
There are several options in BC for private providers, including:
Conclusion
I think it's worth shopping around for alternate providers of optional insurance coverage in BC because a lot of them provide additional benefits not offered by ICBC.
I once had private insurance with Family, but I never had a claim so I can not really let you know about my experience. But the price was definitely better than ICBC. Some companies will not sell insurance to inexperienced drivers, but keep it in mind for when you are more experienced.
It's nice to know that there are some options for insurance in BC, even though ICBC mostly rules the industry.
If you feel that dealing with two insurance companies rather than one after a claim might be a pain in the butt, then maybe stick with ICBC alone. It's just a matter of preference and possible cost savings.
Read more on our blog: