Looking for some ICBC Penticton Information? You have come to the right place in the great land of the internet.
ICBC Penticton – JUST The Facts
The ICBC Penticton is located together with the Penticton Service BC Centre.
Address for ICBC Penticton & Service BC Centre
Phone:
Fax:
250 487-4222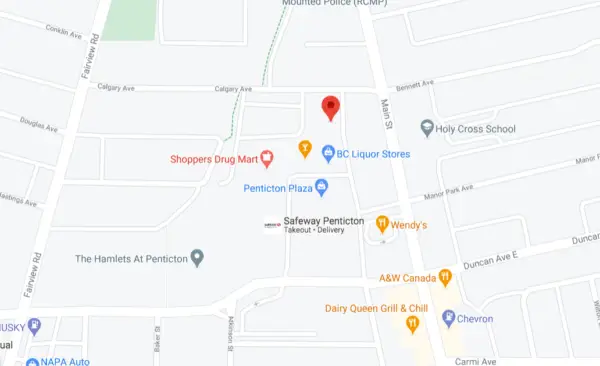 ICBC Penticton Hours of Operation
| | |
| --- | --- |
| Mon | 9:00 am – 4:30 pm |
| Tue | 9:00 am – 4:30 pm |
| Wed | 9:00 am – 4:30 pm |
| Thu | 9:00 am – 4:30 pm |
| Fri | 9:00 am – 4:30 pm |
| Sat | Closed |
| Sun | Closed |
Office is closed for mandatory cleaning during these times: 12:30 p.m. – 1:00 p.m.
Holidays – Click here for hours
Do you need to book your knowledge test?
If you need to go for your knowledge test at ICBC, you'll need to make an appointment in advance. Since this ICBC location is shared with Service BC, you'll need to check out this Service BC booking link to book your ICBC knowledge test.
Covid-19 Update
Due to Covid-19, ICBC has had to change the way they operate. This is to ensure that their offices do not become over-crowded. For this reason, it's helpful if you make an appointment for the following services instead of simply walking in like we used to.
Appointments are for sure required for ICBC Knowledge testing. However, all other services are available for walk in service. Appointments are available 60 days in advance.
BCeID ID Verification
Affordable childcare benefit
Autism funding
BC Driver's license
BC Service Card
BCID
BC Hydro Customer Crisis Fund
Birth Certificate or Registration
Cannabis associate attestation
Cannabis worker attestation
Commissioner for taking affidavits
Death certificate
Wills notice
Wills search
Forestry worker support program
Legal change of name
Marriage license
Medical services plan account update
Application for BC Medical or payment
PST Payments
Residential tenancy application for review consideration, dispute application, fee waiver application, pickup hearing package, submit additional evidence
Rural property tax deferment application, payment, or deferral payment
Speculation and vacancy tax
Student Aid BC attestation
Switch over driver's license after moving to BC
Ticket payment or dispute
Vehicle impound release
Driving prohibition review
Many services are available on the online world!
Why talk to annoying humans if you really don't have to? ICBC has made many services available on the online world in light of Covid-19. Check this list below to find out if you can simply do what you need to do online.