School And Playground Zones
Ah yes, school and playground zones. One of the most popular reasons for people to fail their road test. They either don't notice the zone and go too fast, or assume there's one when there isn't, and are going too slowly.
It's a great source of confusion for new drivers. School and playground zones are similar, but different. The differences are in the times and the shapes of the signs.
The 30 km/hr School zone signs are in the shape of a house. They are 30 km/hr between 8 am and 5 pm on school days only unless otherwise posted.
These are not in effect during summer holidays, winter break, spring break, etc. The exception is if it is accompanied by an obvious Summer school sign attached.
School And Playground Zones – Burnaby School Zone Signs
Burnaby School Zones are now in effect from 7 am until 10 pm
Burnaby has recently updated their city's school zone laws, and signs to go with. The new laws indicate that the school zones are in effect from 7 am until 10 pm.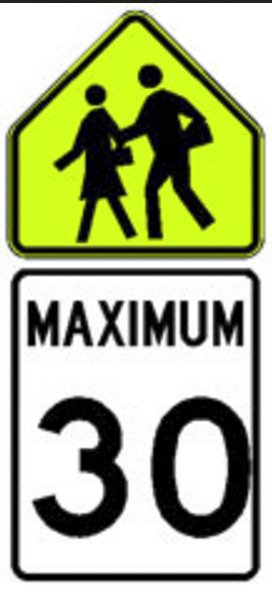 Playground Zones in British Columbia
Playground zone signs are in the shape of a diamond. They are in effect dawn till dusk, every day, 365 days per year: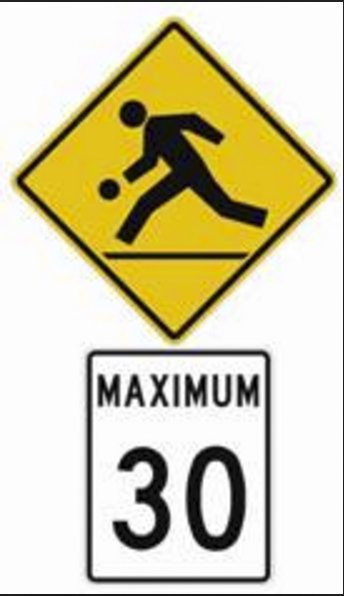 If Playground Zones Are In Effect Dawn Till Dusk – How Do I Know If It's Dusk? Sometimes It Is Getting Dark, But I'm Not Sure If It's Dusk
Dusk may be defined as partial darkness between day and night; the dark part of twilight.
Since there's no sign telling us when exactly it is officially 'dusk' we must use judgement. If you aren't sure, err on the side of caution, or go 40. Consider the consequences of driving 30 km/hr vs. those of driving faster. Consider also the visibility in the playground zone and the presence (or obvious lack thereof) of children.
Think of dusk as 'almost dark'
School And Playground Zones – Signs without Speed Tabs
If you see the playground or school sign by itself – without the 30 km tab – then the speed limit is 50 km/hr unless otherwise posted.
Or, the speed limit is whatever the speed was on the road you were on before you saw the sign.
In other words, if it doesn't say to go 30km/hr, then you don't have to go 30 km/hr. Although, you could always decide to slow down if you see a good reason. A good driver is a thinking driver.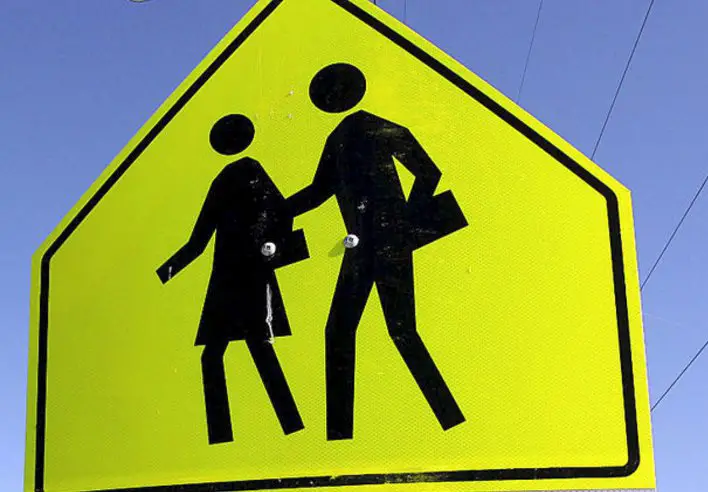 School And Playground Zones – Where does the school zone end?
If you want to figure out where the zone ends, then look for the back of the sign. It's a very particular shape. You will find it on the opposite side of the road for the traffic facing you.
Question About School And Playground Zones – Speed Restriction When Children On Highway Road Sign
When Children On Highway
Question: I have a question about the playground zone speed limitation. Once I was driving around a playground in Maple Ridge, and the sign says "30km/h when children on highway". I could see children playing inside the playground, but there're nobody actually on the road or the shoulder, so should I drive at 30 or 50?
Black And White Signs
According to the motor vehicle act HERE, 
Was it a black and white (regulation, i.e. not optional) speed tab sign like this, attached to a playground sign? You only 'have to' slow down to the posted speed when the child/children are on the road or shoulder in this case.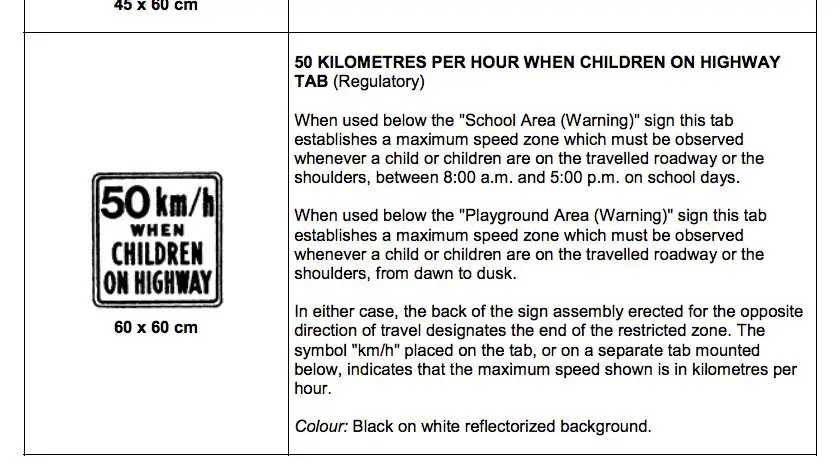 Conclusion
School and playground zones often perplex new drivers, especially during summer when there may be summer school, or children obviously playing at lots of different parks, playgrounds, and schools. The thing to remember is that you're not supposed to be physic.
Just like any other time you're driving, your job is to pay attention to the road signs and follow their instructions. If you see an area where kids are playing but there are no speed signs, then you aren't officially in a speed zone. However – just like any other time you are driving – you can always slow down if you think it's a good idea for that particular moment.
During summer, school zones are not in effect, unless they have an obvious 'summer school' tab attached. Playground zones are in effect dawn till dusk, every single day of the year, unless otherwise posted.