Searching for driving practice areas?
When you're trying to learn how to drive, location is crucial. If you don't find the appropriate location, bad things can happen, including too much stress, and just wasting time if you're trying to do something you're nowhere near ready to do.
Trying to find driving practice areas can seem like a bit of a challenge. Over the years I've found several areas that I would recommend to people who are just learning how to drive.
For those folks who would like a quiet area to practice controlling the vehicle without having to worry too much about other drivers trying to get somewhere, this article is for you. Let's dive into this.
Table of Contents
Burnaby – Burnaby Heights
Burnaby Heights can be a great option, although it won't win the award for the easiest place to get going, due to the fact that many of the roads are narrow with a lot of parked cars on both sides of the streets.
However, it's still a pretty quiet residential area that would be okay for a learner or brand-new driver. Watch out for traffic circles. These are difficult for new drivers and most new drivers do not steer a sufficient amount. You can avoid them altogether by planning ahead or by simply turning right when you get to one.
Burnaby: Gilmore & Hastings Area
This similar area in Burnaby is much busier with traffic I would say, but still similar to the other area in terms of types of intersections. It would be for a little more advanced drivers, perhaps when the quieter neighborhood seems too easy.
I love this area because you can drive there for a long time and learn a lot about 2 way stops, 4 way stops, right of way, and practice your turning and steering at the same time.
It gets busy in rush hour but can be quite nice on the weekends and evenings.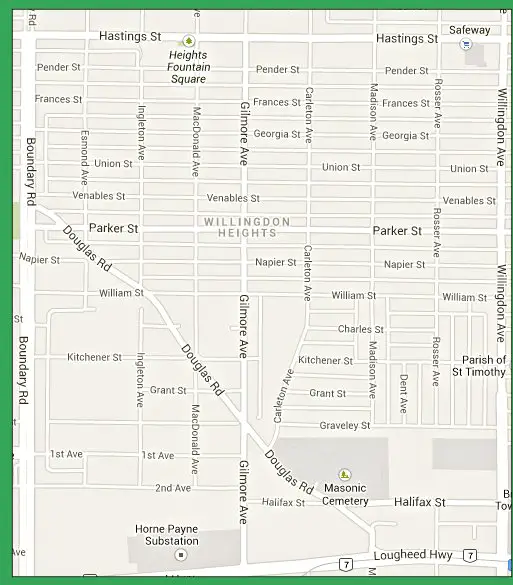 Once this is too easy, then you can graduate to any other area that has similar types of intersections
Where to practice driving in Vancouver
Vancouver – Oak Street & 25th Area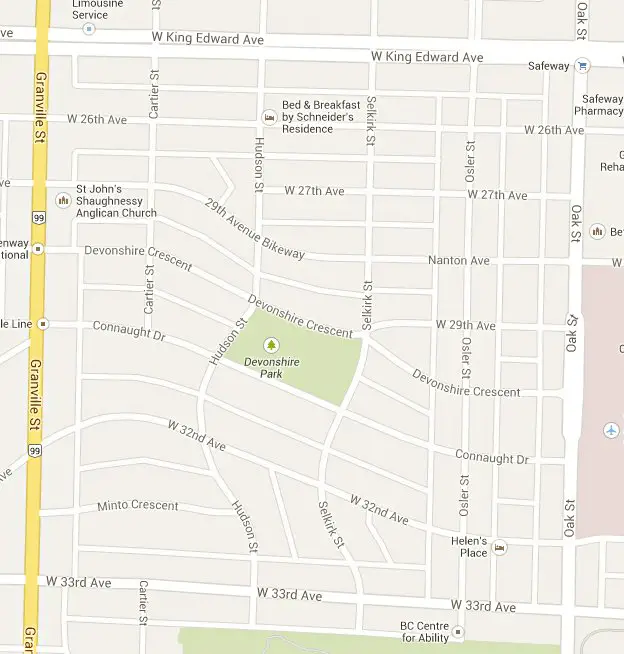 This seemingly random neighborhood around Oak Street and 25th Avenue (King Edward Avenue) might be a good option. You don't really have a large area to work with and may end up driving in circles (squares). However, it's good for fresh drivers wanting to just get a feel for things without worrying about too many pesky other humans.
It is surrounded by high-intensity roads like Granville, so make sure you know where your edges are.
Vancouver – Arbutus Ridge Area
This is another perfect location for newbies and happens to be next to an ICBC driver licensing location where road tests do take place. But, simply a nice quiet neighborhood great for driving practice.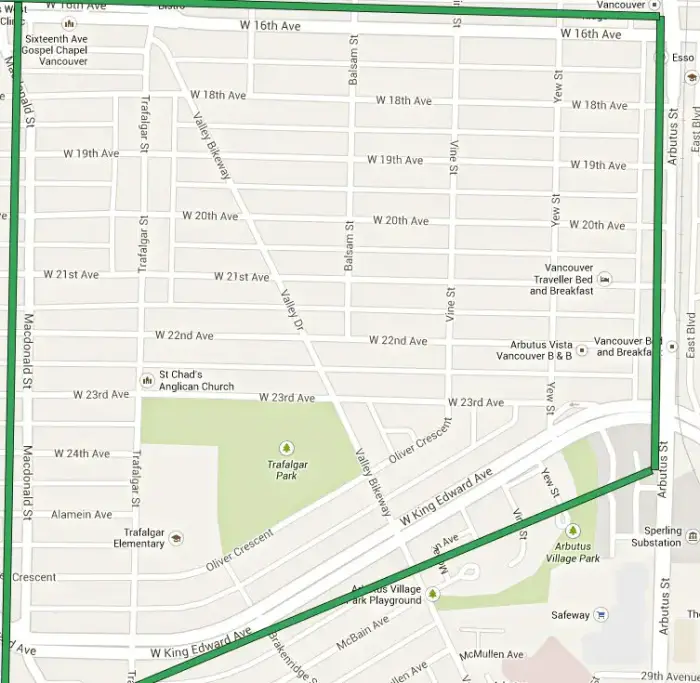 North Vancouver – Sutherland High School Area
This area can be somewhat busier than the others but is generally good; busy around school hours, it's much quieter on weekends. This would be my #1 favorite location to take brand new drivers when I was a driving instructor. You can mostly focus on what you want to learn and won't have to worry about other traffic too much.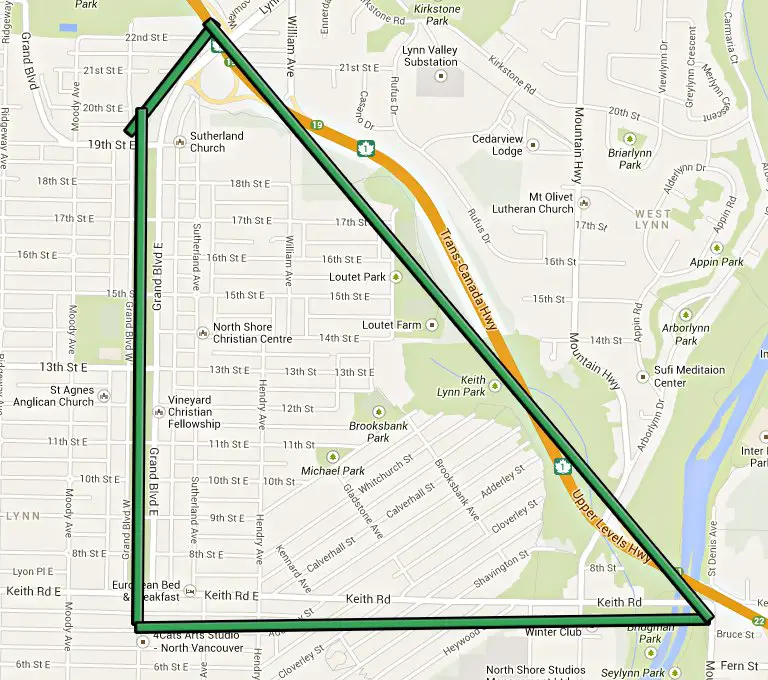 North Vancouver – Pemberton Heights
10 out of 10 driving instructors would recommend this area in North Vancouver known as Pemberton Heights. It's just another small, residential area with a bunch of stop signs and not too much traffic besides the folks who live there.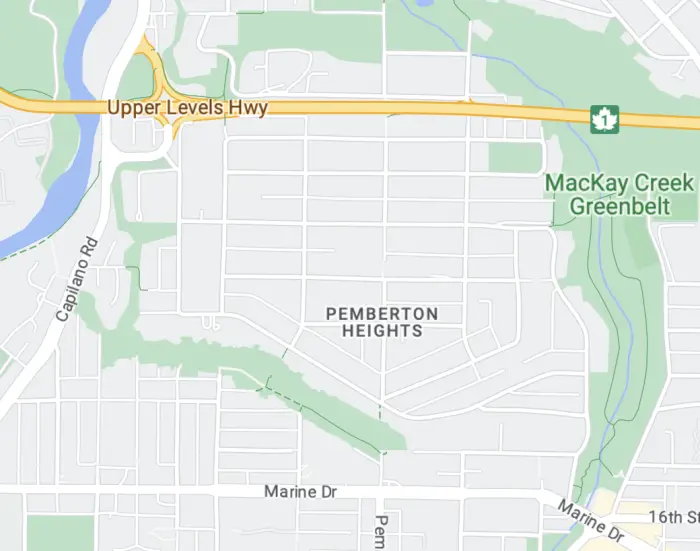 And once you're bored of that, maybe you're ready for a busier street?
If it is your first time ever trying the main road (a busy street with multiple lanes) one of my favorites is King Edward Ave in Vancouver.
It is long, it is generally wide and generally divided so oncoming traffic is a lot further away from you. This is simply more relaxing for both driver and passenger.
And you can keep going in both directions to the very end and find yourself with easy access to residential areas where you can turn around or stop.
It's good for practicing traffic light anticipation, lane changing, and all of that exciting stuff that goes along with it. Of course, there are a thousand other roads that would work well also. This is a bit random, but do you need to brush up on your Blind Spots in a Car?
Where to find empty parking lots
Schools, universities, colleges, certain mall parking lots
Church parking lots (except for Sundays and sometimes Wednesdays)
Superstore/IKEA/ etc.
Annacis Island (Weekends only!)
Mitchell Island Richmond (Industrial – Evenings & weekends only)
Superstore Grandview Highway
Wal-Mart Parking Lot in Queensborough
Read more on our blog:
Author Profile
Carmen became a driving instructor in beautiful North Vancouver at the age of 22 due to some crazy people who agreed to hire her. After that, there was never a dull moment teaching many different folks from many different places how to drive using automatic and standard vehicles and a minivan.