This post was  inspired by this traffic light in Vancouver on Victoria Drive & 37th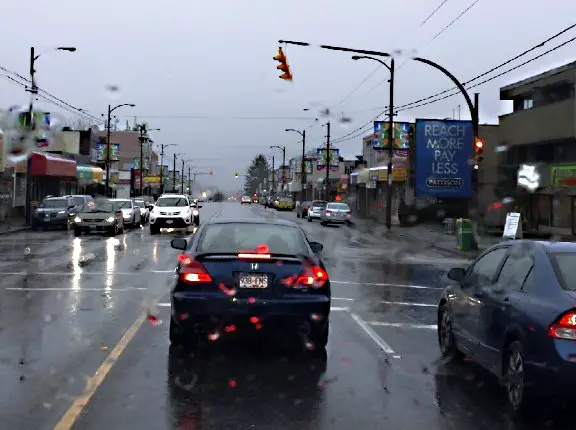 When you see something is wrong, you can call the city (when you are parked) and tell them so they can fix it.
City of Vancouver
Boundary Road Traffic Signal Repair call

604-871-6200
City of Victoria
City of Burnaby
To report a traffic signal in need of repair, or if you want to make an inquiry
you can contact us during regular office hours (8:00 AM to 4:45 PM, Monday to Friday) 
604-294-7460 or by email at engineering@burnaby.ca.
For emergencies outside of office hours
please call Engineering Emergency Dispatch at 604-294-7200.
City of Coquitlam 
If you spot any problems with a traffic signal, it should be reported right away to Engineering Customer Service at

604-927-3500

. Problems include lights burnt out, damage or vandalism, flashing red in all directions, trees or other obstacles blocking a clear view of the signal.
Please Note – The Engineering and Public Works email address is only monitored during regular business hours (Monday to Friday:  8:00 a.m. – 5:00 p.m.).

If this matter is urgent,

please call our Engineering and Public Works Customer Service line at 604-927-3500 (24 Hours / 7 Days a Week).Engineering Customer Service Email: epw@coquitlam.ca
City of Port Coquitlam
Bear/Dangerous Wildlife Sighting
Conservation Officer Service
1.877.952.RAPP (7277)
Broken Watermain
Port Coquitlam Operations Centre
604.927.5480 or 604.927.5488
(also good for any road or sewer emergency within the City of Port Coquitlam)
Afterhours Emergency 604.543.6700
Downed Electrical Wires
BC Hydro 1.888.769.3766
City of Port Moody
Damaged sidewalk or curb 604.469.4574
Damaged street signs 604.469.4574
Damaged traffic lights or signals 604.469.4618
Street lights out 604.469.4574
City of Maple Ridge
Reporting Issues
Report any traffic light issues for City-maintained lights to the Operations Centre at 604-463-9581. Issues with the ones maintained by the Ministry of Transportation and Highways can be reported to 604-660-8300. 
City of Richmond
City of Richmond

You may use our online form to report a problem or request a service, or alternatively please call these number for assistance:

Main Switchboard 604-276-4000
Graffiti Hotline 604-233-3307
Public Works 24 Hour Call Centre –

604-244-1262

to report:

Potholes, cracks, and other problems with street surfaces, sidewalks, and curbs;
Missing or damaged signs on City property;
Missing, damaged or blocked traffic signs;
Watermain leaks or water quality (dirty water);
Burned out street lights or damaged light poles.
Delta
Street Lighting & Traffic Signals
t: 604-946-3260 (regular office hours)
604-946-4411 (after office hours and holidays)
Street Sweeping/Potholes
t: 604-946-3260
Trouble Calls After 4:45 pm & Holidays
t: 604-946-4411
Surrey
Report a non-emergency problem by submitting your Service Request online by using the graphic below.
Download the Surrey Request App to submit your request on your smartphone or tablet.
Report Emergency Issues by calling 604-591-4152.
For missing stop signs or broken traffic signals, call 604-591-4338.
Track your service request status and see the progress. – See more at: SURREY
Langley
During normal business hours Monday to Friday 8:30am to 4:30pm, call 604.532.7300

After normal business hours, on weekends, and on statutory holidays, call 604.543.6700
North Vancouver City
Engineering Emergency Services
Tel: 604-988-2212 (after 5:00pm and Holidays)
North Vancouver City Hall Reception: 604-985-7761
District of North Vancouver
For after hours emergencies (4:30pm to 8:00am) please call 604-990-3666
This includes any issue that requires a work crew's attention outside of regular hours, such as:
water or sewer main breaks
dangerous debris or fallen trees on a street
damaging potholes
Telephone
Phone: 604-990-2311
West Vancouver
604-925-7100
Pitt Meadows
Lougheed Highway 
The Lougheed Highway is maintained by the Province of BC.  Concerns relating to traffic signals, potholes, road issues etc. on Lougheed Hwy, should be directed to Mainroad Contracting by calling 604.271.0337.  This number is available 24 hours a day.  For more information, visit the Mainroad website.
Road Condition Complaints
Do you have any questions or concerns about potholes, dust on gravel roads, debris on roads, or icy conditions? Contact the Public Works Department Monday through Friday by calling 604.465.2434 or for 24 hour Emergency Service 604.465.2465.
Mainroad 24 hour hotline
We encourage the public to report changing road conditions or emergency situations to Mainroad's 24 hour hotline.  There is a hotline designated for the following service areas. These hotlines are not a substitute for 911. If you encounter a road situation that requires the attention of police, fire or ambulance, please call 911 first.
Lower Mainland
604-271-0337
 
 
Howe Sound | Lions Gate Bridge, Stanley Park Causeway; TransCanada Highway #1 from Vancouver; just east of the Cassiar Tunnel to Horseshoe Bay; Highway 99 from Function Junction to Duffy Lake; and on support roads around Pemberton and Mount Currie.
1-866-904-0209
 
 
**Note: Sea to Sky Highway and Golden Ears Bridge is maintained by Miller Capilano.
1-866-918-1010
 
 
Port Mann / Highway 1 Project
TransCanada Highway 1 between First Ave and 216th St.
604-271-0337
 
 
**Note: Fraser Valley beyond 264th is maintained by Emil Anderson.
1-800-667-5122
 
 
South Fraser Perimeter Road
Highway 17 between Tsawwassen and 176th Street
604-271-0337
 
 
South Vancouver Island
1-877-391-7310
 
 
East Kootenays
1-800-665-4929
City of New Westminster
Reporting of Outages or Non-functioning Traffic Signals etc.

Electrical outages may occur as a result of motor vehicle accidents, severe weather, or equipment failure. If you are experiencing a fluctuation or cessation of electrical supply, reporting traffic signal malfunction, wires down or any other electrical emergency during regular business hours (Mon – Fri, 8:00 am – 4:00 pm), please cal 604-515-3750.

If calling outside regular business hours (evenings and weekends), call 604-526-8875 (BC Hydro Emergency Dispatch).

For non-emergency reports including street light outages, please call 604-515-3750 or 604-527-4528 during regular business hours (Mon – Fri, 8:00 am – 4:00 pm).

 
Author Profile
Carmen became a driving instructor in beautiful North Vancouver at the age of 22 due to some crazy people who agreed to hire her. After that, there was never a dull moment teaching many different folks from many different places how to drive using automatic and standard vehicles and a minivan.