What's It Like driving a race car?
Driving a race car is not like driving a regular car. What's the difference? Only everything.
High speeds, vibrations, exposure to G loads higher than NASA astronauts, hot humid environments, stress, stamina, heart rates, adrenaline, plus more metabolic strain on the body including oxygen and glucose responses. No big deal! I'm sure some drivers add espresso into the mix. Now there's a party.
In addition, race car drivers wear full fire protective suits and fire protective helmets. This basically shuts off the body's ability to cool itself. Plus, they're heavy.
So, drivers get hot – very hot – and sweaty, and they need to work in these conditions for hours without a break.
Driving A Race Car – Race Car Drivers Are Athletes
There used to be some debate as to whether race car drivers are actually athletes. I guess I can understand that. I mean, if you look at a race car driver, and know nothing about it, you'll notice they're always sitting in a car. How lazy.
It turns out that race car drivers are real athletes. Their heart rates are comparable to marathon runners. Many racing teams have physical conditioning programs. These include coaches for the drivers, translating into lots of hours in a gym.
Race car drivers can lose many pounds during long races.
Serious race car drivers train for cardiovascular endurance. In addition, for strength in the core, neck, and shoulders. Race car driving demands a very special kind of human. Mad skills are required. It's a very demanding sport that requires elite athletes only.
Driving A Race Car – Is It Hard to drive a race car?
I think most people can agree that it's hard to drive a race car. I mean, to drive it well. And for sure, to win. This is not easy. If your race car is easy to control, it means you aren't going fast enough. Not fast enough to win, anyway.
Race car drivers need to make split second decisions. They need an extremely excellent feel for the road. They do this through the chassis, brakes, and steering.
Drivers must have an insane ability to focus and to live in the moment; a little bit before the moment, actually. If they don't, they could die.
Driving A Race Car With A Focused Mind
Race drivers need strong minds that can deal with that, all while speeding around a race track. And not just leisurely. It's at the absolute limit of traction and control-ability.
You need extraordinarily fast and accurate reflexes. Racing requires a substantial level of physical endurance.
Figuring out where that absolute limit is, and pushing right up against it – and sometimes over it – is the true challenge of racing.
Driving A Race Car – Endurance & Technical Knowledge
Race car drivers need endurance. It's not like a soccer or football game where athletes get a chance to rest. If race car drivers rest, or daydream while driving, it's over.
They also need technical knowledge. Tires can heat and wear out. The harder the driver pushes and asks of the tire, the more they wear out. If the tires get too hot, they'll start to lose grip. Not to mention, being aware of wear and tear on the brakes is also necessary.
Driving A Race Car – Unaffordable Mistakes
The other reason why driving a race car is hard is that mistakes are expensive.
If a soccer player makes a mistake – like scoring on his own goal for example – well, that sucks for sure, but no one gets hurt. No one has to pay any extra. No ones life is in danger.
One mistake in a race car is different. Hundreds of thousands of dollars are on the line. In addition, lives – including lives that aren't your own – are at risk.
Race car driving requires a good brain. Car racing requires extraordinary powers of concentration. You need a good brain in order to make moves before the need becomes apparent to you.
Your mind really needs to stay ahead of your car. For example, you might need to slow down for a turn or curve that in itself you could take faster. But, you need to be decelerated for a different turn that is right afterwards.
This means you don't have the luxury of stopping to ponder your situation. If you do that, your car will start driving without you. So you always need to stay on top and ahead of all decisions, way before your car.
Driving A Race Car – Driving Straight Or Turning
Driving straight is pretty easy, just as it is in normal cars. It's the turning skills that distinguishes the racing drivers. Some tracks feature 90-degree turns.
The trick is a mind game with yourself. Just exactly how brave can you be? Exactly how hard are you willing to hang on?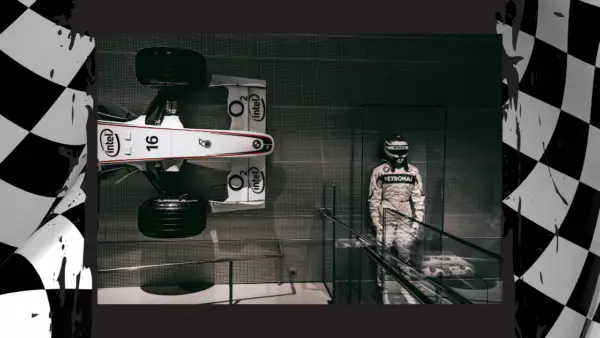 Driving A Race Car – Winning The Car Race
Drivers need to understand that race driving is all about tire friction. It's a fine art trying to balance the car's speed with your tire's grip limits on the track. Tires tend to slide during turns.
If you're too careful, you're not going to max out you and your car's abilities – which means you'll lose.
But, if on the other hand you're pushing it too hard, you might crash. That artful tango between you and your tires is the difference between winning and losing.
Driving A Race Car – How much does a race car driver make?
The answer to this is I don't know, you know? It seems to be somewhat of a mystery. Currently, the average annual pay for the Race Car Drivers jobs category in the United States is $40,904 a year (according to Ziprecruiter). F1 driver Nico Hülkenberg makes an estimated $10.0 million. Race car salaries are often shrouded in secrecy. It seems to be a combination of salary, performance bonuses, sponsorship deals, and maybe some other stuff.
So, no one really knows, and there seems to be a wide range of salaries.
Top Nascar Driver Salaries
Dale Earnhardt: $22 million
Jimmie Johnson: $19.2 million
Kyle Busch: $14.7 million
Denny Hamlin: $14.6 million
Kevin Harvick: $13.6 million
Brad Keselowski: $11.2 million
Kasey Kahne: $11.2 million
Danica Patrick: $10.3 million
Joey Logano: $10.2 million
Kyle Larson: $10.1 million
Martin Truex: $9.9 million
Matt Kenseth: $9.0 million
Driving A Race Car – Race Car Driving Vancouver
Good news! There are options available for driving a race car in the Vancouver and lower mainland British Columbia area via GT Race Experience.
Unless you just want to debate the definition of a race car.
Who wouldn't jump at this opportunity to drive a Race Ford Mustang GT, Chevrolet Camaro SS, or Nissan 370Z? You can race it around the private race track in Mission. Your own private coach will be with you, and you can forget about arbitrary speed limits…
You also have the option to get a multi-car experience.
The track season run from April to October.
Here are Some Of your racing options via GT Race Experience
If you think it's expensive, just compare it to speeding tickets, points, and penalties costs in the real world..
Race Ride – from $115
With this package, you are not driving. I suppose this is for people who just want the experience without doing any of the work. You will sit in the front seat in one of the track-prepared cars. It will be driven by experienced race-tested coaches.
3-Lap First Taste – from $269.50
With this package, you will drive a track-prepared car for 3 exciting laps of The Road Course at Mission Race Way.
5-Lap The Experience – from $434.50
For this one, you can drive a track-prepared car for 5 exciting laps of The Road Course at Mission Race Way.
7-Lap Next Level Experience – from $599.50
You'll drive a track-prepared car for 7 exciting laps of The Road Course at Mission Race Way.
The Cars are prepared with sneeze shields
All Packages Include:
Classroom session where you will learn the basics of high-performance driving, including finding your race line, different cornering techniques, and best practices and techniques for braking
Race suit and helmet rental
Use of track-prepared car(s)
Access to a racing circuit
In-car coach: You will be paired with a professional racing driver. They will be with you (in car) to coach you on proper racing techniques. They'll also show you the racing line while you are on the track
2021 Track Dates
April 22
May 6
May 20
June 3
June 17
July 8
July 22
August 12
August 25
September 8
September 23
October 7
​
Conclusion
Driving a race car is a sport. Just like other sports, race car drivers need to train intensively, and they sweat while they're racing. Just because they're sitting down, doesn't mean race car drivers are lazy. In fact quite the opposite. They arguably work harder than some kinds of other athletes.