Safe Guidelines For Driving In The Lane or Back Ally
Unless posted, the speed limit here is maximum 20 km/hr.
Entrances to lanes, parking lots, and driveways are legally treated much more like a private driveway than an intersection. This means drivers exiting the lane are required to completely stop their vehicle before the side-walk (or before the edge of the road, whichever comes first) and yield to pedestrians and traffic before proceeding. Treat as though you are facing a stop sign.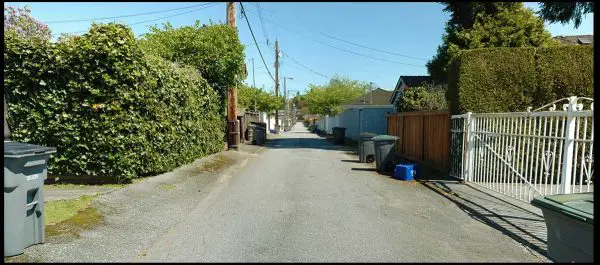 Common hazards include blind areas, vehicles reversing from driveways, children, and animals.
Many moons ago, Carmen became an ICBC-approved driving instructor at the age of 22 in North Vancouver, and has spent many years working with new and experienced drivers around the lower mainland. She can be found reading the Motor Vehicle Act for fun while receiving strange looks from others. May the quest for great driving continue!