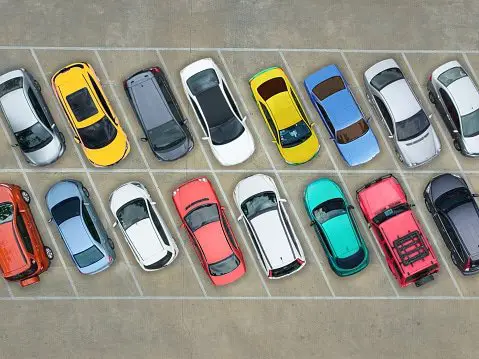 And the most dangerous parking lot in Metro Vancouver for pedestrians is…
Did you know that parking lots are the second most common place where collisions occur, after intersections?
ICBC has released a list of the most dangerous parking lots for pedestrians between 2008 and 2012.
A statement from Concorde security on precautions that drivers should take: 
"Before they throw their car in reverse and start moving, they really need to look what's behind them," said operations manager James Blight. "We also see people texting and driving in parking lots, which is a big no-no."
And the winner (uh, loser) is…
Metrotown Mall

in Burnaby:

 

3,590 crashes

with 231 injured, including 32 pedestrians

Coquitlam Centre

in Coquitlam:

 

1,610 crashes

with 99 injured, including 17 pedestrians

Park Royal Mall

in West Vancouver:

 

2,490 crashes

with 182 injured, including 17 pedestrians

Richmond Centre

in Richmond:

 

1,820 crashes

with 64 injured, including 15 pedestrians

Guildford Mall

in Surrey:

 

1,840 crashes

with 134 injured, including 14 pedestrians

Willowbrook Mall

in Langley: 

1,540 crashes

with 160 injured, including 11 pedestrians

Oakridge Mall

in Vancouver: 

1,490 crashes

with 89 injured, including 10 pedestrians

Brentwood Mall

in Burnaby:

 

1,090 crashes

with 53 injured, including five pedestrians

Yaohan Centre

in Richmond:

 

352 crashes

with 13 injured, including four pedestrians

Meadowtown Centre

in Pitt Meadows:

 

156 crashes

with 50 injured, including four pedestrians

Seven Oaks Mall

in Abbotsford:

 

1,840 crashes

with 134 injured

Morgan Crossing

in Surrey:

 

118 crashes

with nine injured
–
It doesn't really matter what parking lot you're in; drivers and pedestrians please be extra cautious around this busy time of year (and hopefully, all year as well).
Drivers:
SLOW DOWN

avoid distractions

honk before reversing if visibility is poor

Reverse into a parking spot whenever possible so you don't have to reverse to get out of it
Pedestrians:
wear bright or visible clothing

get eye contact from drivers

avoid distractions

use marked crosswalks

watch where you're going (do not text and walk!)
Many moons ago, Carmen became an ICBC-approved driving instructor at the age of 22 in North Vancouver, and has spent many years working with new and experienced drivers around the lower mainland. She can be found reading the Motor Vehicle Act for fun while receiving strange looks from others. May the quest for great driving continue!